Kicking off the 2021 Season!
Kicking off the 2021 Season!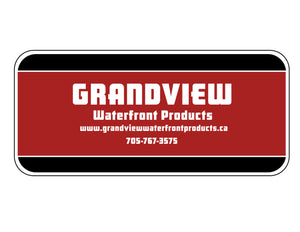 Grandview Waterfront Products is actually a 20 year old company. Back in September of 2000, I purchased Commercial Pallet from the Mason family with my father, Jack Hatkoski. Over the years, the business transitioned from wood pallets and packaging into warehousing, assembly and light manufacturing. In 2009, my friend's business, Cottagespot.com was looking for warehousing and 3rd party logistics and I had extra space available due to the economic conditions at that time and the decline in Muskoka based manufacturing. It was then that Don Waddington and myself developed the battery powered, solar recharged Sun Pump. In 2010, I developed the Muskoka Surfboard and in 2016, I partnered with Cottagespot.com to sell PWC ports, swim rafts and aluminum docks. In 2019, Cottagespot.com sold to new owners and in January 2020, Grandview Waterfront Products was created as a result of the amalgamation of the Commercial Pallet operations. Now with over 5 years in the cottage waterfront products business, 900+ Sun Pumps sold and many happy customers, it looks like we are off to a terrific start to 2021. Let's hope that the warm, clear Spring weather hangs in there through April! Check in regularly and feel free to contact us if you have any questions or need information.
Regards, Richard Hatkoski